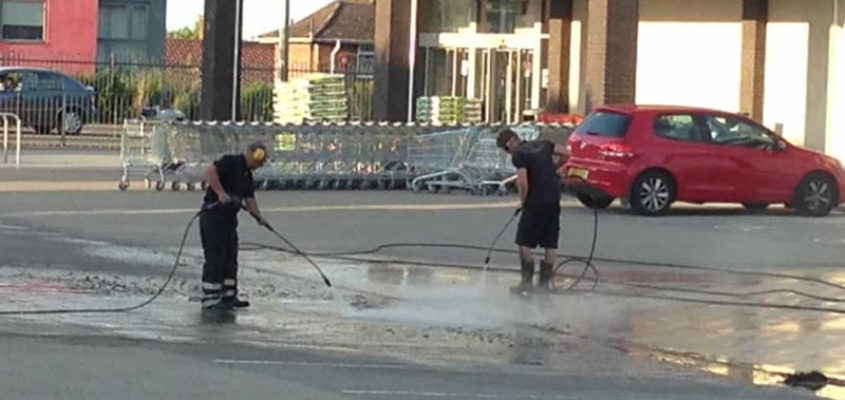 Car Park Cleaning in Melbourne
CFM Facilities is proud to be a leading provider of cleaning services in Melbourne. With a team of trained, dedicated and confident cleaning experts, we can provide convenient and efficient cleans with a high level of quality and the latest equipment.
Our cleaning services cover a wide range of project types, with our client portfolio including the likes of hospitality, construction sites, industrial spaces and commercial properties. Focusing on delivering the best outcomes for our customers, we promise competitive prices without compromising on quality or professionalism.
As part of our services, we offer car park cleaning in Melbourne for your industrial or commercial property. While car parks see a large number of cars pass through on a daily basis, CFM Facilities can help combat the build-up of nasty debris, dirt and dust in difficult to reach places.
Our Car Park Cleaning Services
For shopping centres, corporate workplaces and hospitality businesses, constant impact and visitors can lead to the accumulation of dirt and dust in car park areas. Difficult to reach and hard to clean bacteria, grease and oil can build up over time as a result, necessitating a professional and thorough car park clean.
At CFM Facilities, we provide car park cleaning in Melbourne with the highest level of care and professionalism. With a dedicated team of experts and cutting-edge tools, our car park cleans are convenient, effective and efficient. We also offer a range of services as part of our car park cleaning, including but not limited to:
Removal of graffiti and vandalism
Removal of rubbish and debris
Clearing of grease and oil
Our car park and general cleaning services help to ensure that your property looks as presentable as possible. Beyond the necessary importance of having an aesthetically pleasing industrial or commercial area, our professional maintenance also guarantees safety, hygiene and complete cleanliness.
Having your car parks and buildings up to scratch in terms of both appearance and hygiene will ensure that you're preventing any unexpected hassles, injuries, accidents and irreparable damage. From car park office cleaning in Dandenong through to car park industrial cleaning in Geelong, we're proud to be the first choice for projects in Melbourne and beyond.
Our car park cleaning and building cleaning Melbourne services are second to none in quality, professionalism and the level of care we put into each and every project. Using cutting-edge tools such as high pressure hoses and water extraction machines, quality cleaning agents and professional techniques, we're the best choice for the most convenient clean.
The Importance of Car Park Cleaning in Melbourne
There are several reasons why car park cleaning is necessary for industrial spaces. Organising a professional and thorough car park clean on a regular basis has countless benefits, and our car park cleaning Melbourne services are one of the most popular that we offer.
For commercial properties, car parks are often the first point of contact, and therefore the first impression, that customers have with your premises. Unkempt car parks can affect your corporate image, deter prospective customers from returning, and encourage visitors to look elsewhere for their needs. Regular car park cleaning in Melbourne with CFM Facilities means that your business will look sophisticated, established and completely professional in all aspects.
Ensure your car park is free of debris, dirt and dust and improve the overall safety of your property with our convenient and high-quality services. At CFM Facilities, we take our time to assess your property, decide on the best solution and tailor the outcome to suit your specific needs and requirements. Effective and efficient, we make it our priority to avoid disrupting your daily tasks.
Choose CFM Facilities Today
CFM Facilities offers car park cleaning in Melbourne and beyond, including Werribee, Geelong and many other suburbs across the state. With a focus on providing our customers with a superior service, professional work and impressive results, we've proudly become the go-to for clients such as the Australian Meat Group and the Point Restaurant.
Contact us today to learn more, request a quote for car park cleaning in Melbourne or make a booking at your earliest convenience. Call us on 0403 317 440, or send us an email and one of our dedicated and enthusiastic staff members will be in touch to discuss your needs.