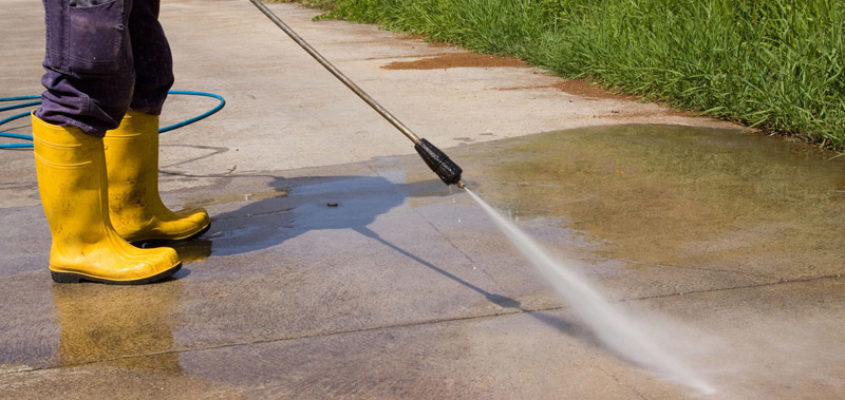 Pressure Cleaning in Melbourne
CFM Facilities consists of an expert team of cleaners who can assist with a range of different projects. With our clients ranging from corporate and commercial to industrial clients, there isn't a job that we can't take on. Our team of cleaners are highly trained, making us a second to none choice in the cleaning industry.
Renowned for being some of the very best commercial cleaning contractors in Melbourne, we can achieve incredible results through our many cleaning services, helping to clean and maintain properties such as corporate workplaces, restaurants, construction sites and more. As part of our many cleaning services, CFM Facilities is also proud to offer professional pressure cleaning Melbourne wide.
Our Pressure Cleaning Services
Outdoor surfaces like driveways and patios can become caked with leaves and other debris over time. This can affect the look of your property, meaning a professional pressure cleaning Melbourne service might be in order. Unkempt surfaces can greatly impact the aesthetic of commercial properties, and professional assistance is often necessary in order to clear them of dirt and stains and keep them looking as professional and presentable as possible.
At CFM Facilities, we're proud to offer professional pressure cleaning in Melbourne that is completely convenient, efficient and high in quality. Promising affordable and competitive prices, we never compromise on quality and have years of experiencing achieving excellent pressure cleaning results for our clients.
Whether you want to remove dirt that's accumulated during the winter months of the year, oil and petroleum products that have leaked from cars onto your driveway, or mould and mildew as a result of excessive moisture from rainfall and humidity, there's nothing we can't help you with when it comes to pressure cleaning Melbourne.
Helping you reach the cleanest, safest and best looking property possible is our main priority, and we maintain this philosophy for every project we undertake. At CFM Facilities, we tailor every project to suit the individual needs of the client. With a thorough assessment, we will be able to provide you with the services you need so we can deliver superior results.
Extensive Experience and Expertise
When you choose CFM Facilities for pressure cleaning in Melbourne and other services, you're promised a combination of quality service and amazing results. Experts in the field, we have an extensive portfolio of satisfied customers and access to top of the range equipment to help us carry out incredible cleans. Whether you need interior and exterior office cleaning services in Melbourne or you need help pressure cleaning a retail store, we treat every job as importantly as the last, with a team who are enthusiastic, highly trained and impressive.
At CFM Facilities, we boast a team of highly trained and experienced specialists who can provide superior pressure cleaning for commercial and industrial properties. Our technicians have received extensive education and training regarding different types of surfaces, allowing them to achieve consistently excellent results.
We use cutting-edge equipment and techniques to ensure your outdoor surfaces are perfectly washed and undamaged. Depending on your requirements, we can also apply softening agents and detergent solutions to maximise the effectiveness of our pressure cleaning in Melbourne. We pride ourselves on having access to environmentally-friendly methods that are simple and timely.
We're also proud to be a trusted provider of other cleaning and maintenance services in Melbourne and beyond. Offering industrial and commercial cleaning in Geelong and various other suburbs across the state, it's no surprise why CFM Facilities is the go-to for the likes of the Grosvenor Hotel and the Australian Meat Group.
Enquire Today
Focused on achieving the best outcomes for your particular circumstances, our services are second to none in quality, convenience and efficiency. With every project we attend to, we ensure that we don't interrupt your daily tasks or employees, plus we only use the best equipment to get the job done.
With cutting-edge equipment and the implementation of effective techniques, CFM Facilities is your best choice for pressure cleaning in Melbourne and various other cleaning services. If it's time for a pressure clean, we can ensure a completely satisfying and impressive clean.
Get in touch with the friendly team at CFM Facilities today for more information about our pressure cleaning in Melbourne. Call us on 0403 317 440, or send us an email and a member of our staff will be in touch to discuss your property and what we can do for you.